2020 Virtual Alliance Recap
Virtual Alliance 2020 is in the books. Over the course of the week, we learned how to attend sessions from our homes, got to see where friends and colleagues worked, and was photobombed by toddlers and pets. As expected, the overall theme was COVID-19 and how institutions are coping and planning.
I personally wanted to share 3 topics that jumped out at me.
Non-Traditional Student trends and COVID impact
Fall Term Planning
Spring term grading
Non-Traditional Student Trends and COVID impact
In our session, "Non-traditional students are the next wave of growth in Higher Education. Are your admissions processes ready for it?" we conducted a survey to understand they types of students enrolled and how COVID was affecting institutions' long term curriculum plans.
Degrees Offered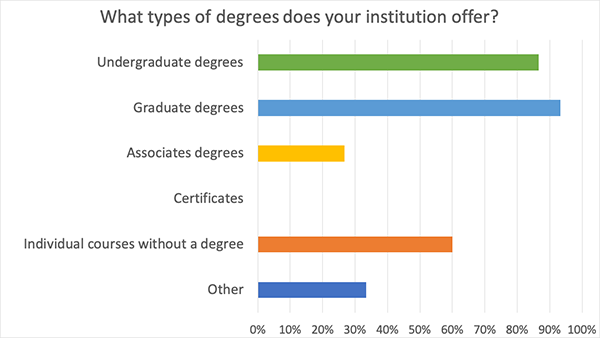 In our session covering 30 institutions, there was a good balance between degree types, with a large number supporting nontraditional students through individual courses, associates degrees, and post-graduate degrees.
COVID Approach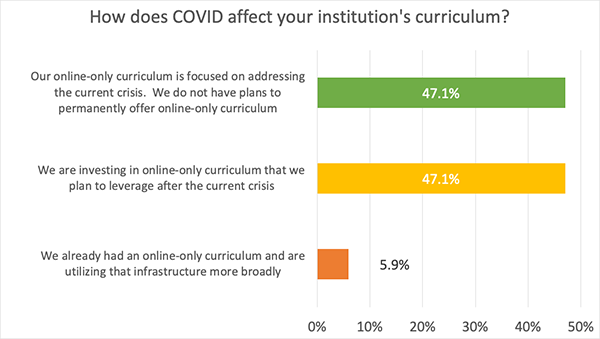 Because online-only curriculum provides the flexibility desired by many non-traditional students, it is often be the launch-point into attracting these students. More than half of the respondents were using COVID asa means to establish a permanent online curriculum or already had an online-only offering. Almost half, however did not have plans to continue to offer this.
How Candidates Apply
Because the online application can be a barrier to entry for non-traditional students, we were curious as to how their candidates apply. A majority of institutions in our session took control over candidate engagement in the application process by building their own online application or utilizing a CRM.
Fall Term Planning
During the conference, I attended a number of academic advisement panels and happy hours. One of the biggest challenges faced in this area is determining how to offer curriculum this fall. Most institutions still haven't made this decision, and this is affecting them in multiple ways.
"We haven't decided yet. Our current discussions are about deciding when we have to decide"
"Our fall curriculum will be a mix of in-person and virtual courses. Right now, we're just trying to decide which percentage will be which"
"Orientation is when our incoming freshmen register for courses. We're trying to decide how this will occur if we can't have orientation. One option is to pick the courses for them."
"Most of our current students have already registered for their fall terms. Depending on what happens, we may have to toss the existing registrations and have them re-register -- which we've never done before."
Spring Term Grading
Another topic discussed across the academic advisement area was how grading was currently being handled. Because spring term was already in progress when courses were moved online, institutions have given students the option to change grading basis for the current term's course to pass / no-pass -- even for courses that normally wouldn't qualify (such as courses counting toward their major).
Here is what most institutions are doing.
Students can make the election up to a week after grades are posted
Because this is viewed as a one-time situation, many institutions have created a new grading category so that the general pass/fail rules aren't affected.
For institutions who didn't use the new category, there was a significant ripple effect in the degree audit, and effort setting manual exceptions
Institutions are challenged with processing elections -- with an average student making more than two elections (and some changing their minds).
Sometimes students are electing pass / fail for grades that would have increased their GPA -- there was much discussion on how much outreach should be done in this scenario.
Many institutions have delayed their spring graduation to give time for these elections to be made and processed.